We have Our CannaVATION JAZ Tank Winners
Help us congratulate the winning business concepts for a medicinal cannabis or industrial hemp product or service.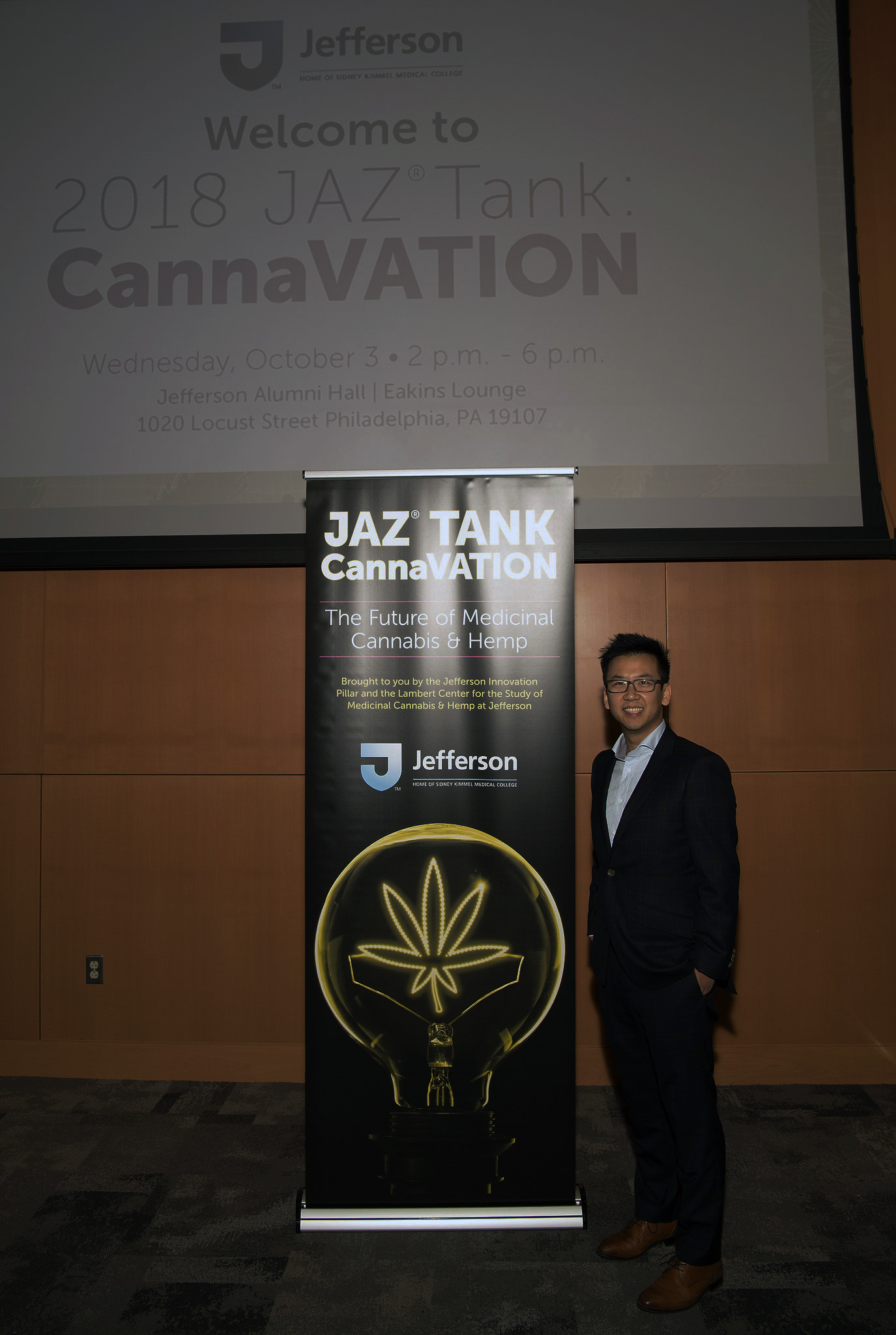 ARBR | Screening software to personalize medical cannabis treatment.
We The People | Biodegradable, hemp-based, mold resistant kitchen and bath towels
Cannabiscope | Interactive wheel to assist in cannabis strain classification
The Grand Prize winner was ARBR, (pronounced, 'Arbor'), received $10,000+ in financial support, one free provisional or utility patent application, and business/clinical consulting services. In addition to the Grand Prize winner, two Runner Up teams of equal standing each received $5,000 in financial support.
Check out the streamed October 3rd event: 2018 CANNAVATION JAZ TANK
What is JAZ Tank?
Jefferson's annual business concept/model competition, as a way to foster entrepreneurship and innovation at Jefferson, the JAZ Tank was created to help members of the healthcare community develop their business ideas into tangible products that can benefit the medical field. Whether you have an established company or simply a concept in mind, we invite you to enter the next Jefferson competition.
---
Thanks to our sponsors!

---
About JAZ Tank
Jefferson's annual JAZ Tank was created to foster entrepreneurship and innovation, and engage the Jefferson community in bringing life to the products and companies that will drive the future of healthcare.
Now in its fourth year, JAZ Tank invited established teams with business models from across the enterprise, as well as the general public, to enter the JAZ Tank Business Track. Individuals and teams from Jefferson, Abington, Aria, Philadelphia University and Kennedy with emergent ideas for health-related products or services were welcome to submit their ideas to the JAZ Tank Opportunity Track. The 2017 challenge attracted more than 100 original concepts and seven finalists were chosen from each track. See our winning teams, their concepts and learn more about last year's JAZ Tank ...
About the Lambert Center for the
Study of Medicinal Cannabis & Hemp
The Lambert Center for the Study of Medicinal Cannabis and Hemp, is a part of the Institute of Emerging Health Professions at Jefferson. Their goals are to (1) provide expert-developed, unbiased information to clinicians and patients about the medical uses of marijuana, hemp extract, and other cannabinoid-focused therapies, (2) conduct research and serve as a networking nidus for multicenter, multinational research to evaluate and elevate the evidence basis for cannabinoid therapy in multiple medical conditions, and (3) provide best support for the development of entrepreneurial and socially responsible business and clinical approaches within the emerging medical cannabis industry and (4) explore and develop new ways to use hemp in medical, industrial, and consumer products. We invite you to learn more about the Lambert Center ...
---
Have an awesome idea or invention that will improve lives? Let us fast-track your idea!
If you'd like to stay up to date on Jefferson Innovation news and events, subscribe to our mailing list.
Questions? Interested in becoming a sponsor?