About Us
Operating Principles
To create value and relevance financially, intellectually and professionally by enhancing the innovation culture at Jefferson.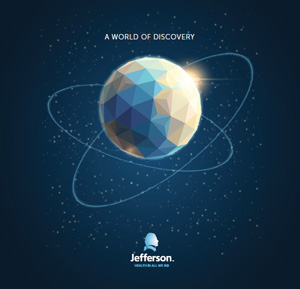 JEFFERSON INNOVATION
An Amazing & Optimistic Future - TODAY
In the summer of 2014, Jefferson reintegrated Thomas Jefferson University (TJU) and Thomas Jefferson University Hospitals (TJUH) and began the process of reinventing the academic health center. The basis for this transformation is our "Blueprint for Strategic Action," which calls for Jefferson to operate around four pillars – Academic, Clinical, Innovation and Institutional Advancement.
As the Innovation Pillar, it is our job to foster ideas and convert them into products and services. The Innovation Pillar is where we test new business models and nurture entrepreneurialism among employees, students and the Jefferson community. We want to make a profound change by adopting new forms of value creation. Universities have always been good at ideas; Jefferson Innovation is going to bring those ideas to you.
Our Goal
It is our goal to create a Jefferson-wide entrepreneurial ecosystem to advance the commercialization of new technologies by supporting members of the Jefferson community through superior services, mentorship, education and partnerships in translating new discoveries into practical applications.
Rose Ritts, PhD, MS
Executive Vice President, Chief Innovation Officer
Creative Brief: As EVP, Dr. Ritts is creating a world-class engine for innovation at Jefferson, advancing our commitment to developing products and services for commercialization, and in partnership with like-minded organizations, driving unique programs that transform how we deliver patient care and education and bring to market novel treatment therapies. In addition to driving innovation efforts for Jefferson Dr. Ritts manages the commercialization staff for the Office of Technology Transfer and Jefferson Accelerator Zone members who support the creation of transformative educational and programmatic initiatives within that group.
Background: With more than 20 years of experience in creating partnerships driven by emerging technology and new business model creation, Dr. Ritts is a leader in her field. In addition to her previous role at Duke University, Dr. Ritts managed emerging venture-capital funded newcos and served as the Director of Biotechnology and Materials at Sarnoff Corporation and Program Manager at the US DoD DARPA. While at DARPA she served on a number of government think tanks and review panels across DoD, NIH, NSF and DOE. Dr. Ritts received her undergraduate degree from Duke University and earned both her PhD and MS degrees from Stanford University.
---
Donna Gentile O'Donnell, PhD
Senior Vice President, Innovation Partnerships & Programs
Special Assistant to the President
Creative Brief: Designer of leadership strategies. Past roles include Managing Director of the Life Sciences portfolio of the Eastern Technology Council; President of the Franklin Health Trust; special limited partner in PA Early Stage Partners Fund III; advisor to a number of life science startups and venture capital groups; member of the CURE Board, distributing $11 billion in tobacco settlement funds over 25 years; the Boards of Trustees of Drexel University, Drexel College of Medicine, and Drexel Law; and PNC's Women's Financial Services Network Advisory Board. Served in the Rendell administration as Deputy Health Commissioner of Policy and Planning, and advises Senator Robert P Casey on health issues.
Public roles: Author of book Provider of Last Resort, columnist and TV commentator in numerous national and regional venues. Before joining Jefferson, consulted for non-profits and corporations on strategic planning and project implementation in life sciences and health care.
Background: PhD, University of Pennsylvania. Joined Jefferson 2013.
---
Heather M. Rose, PhD, JD
Vice President of Licensing and Startups
Creative Brief: Dr. Rose works with Jefferson faculty, staff and students to identify patentable subject matter within their work and coordinate invention disclosures and patent filings. Dr. Rose oversees patent prosecution on University owned intellectual property by outside counsel, assists with strategic de-risking, identifies suitable commercial partners and coordinates targeted marketing efforts. When suitable partners are identified Dr. Rose negotiates the agreements necessary to effect commercialization efforts.
Background: Heather Rose PhD, JD joined the Innovation Pillar as the Director of Technology Licensing in February 2017. Prior to joining the Innovation Pillar at Jefferson, Dr. Rose worked for five years in the Drexel University Office of Technology Commercialization as a Licensing Manager focused on commercializing inventions in the life science disciplines. In addition to a JD with a concentration in intellectual property law obtained at the Kline School of Law, Dr. Rose also holds a PhD in Cellular and Molecular Biology from the University of Pennsylvania School of Medicine. At Penn, Heather performed and presented research about how retroviruses choose genomic locations for insertion of the viral DNA into the host chromosome with an overarching focus on safety and predictability in delivering therapeutic gene doses for gene therapy applications. While in law school Heather interned for two consecutive terms at the Corporate Intellectual Property Department of GlaxoSmithKline. Heather is a member of the PA, NJ, and United States Patent Bars.
---
Robert S. Pugliese, PharmD
Director of Innovation Design
Creative Brief: As Director of Innovation Design, Robert empowers partners and students to be change agents through a number of initiatives he manages that bring together diverse specialties such as industrial design, architecture, medicine, and community policy and engagement. Robert also co-founded the Health Design Lab, a creative space built with the purpose of merging together design-studio ethos with science-oriented discipline to foster innovation in healthcare. Robert has special interests in public health challenges such as food justice and the opioid crisis; two active areas of research and development for the teams he leads through the Health Design Lab and JeffSolves programs. He also serves as Executive Director for the Jefferson Health Hack.
Background: Robert received the Prescott Award in 2018 and is Chair of the ASHP Section Advisory Group on Emergency Care. He has presented on the intersection of healthcare and design at national venues such as SXSW and Stanford Medicine X. In 2019, Robert was selected as a Philadelphia Business Journal Forty Under 40 honoree and has spent over ten years practicing and teaching in Emergency Medicine. He received his Doctor of Pharmacy from Northeastern University.
---
Mike Accordino, MBA
Manager, Business Development
Creative Brief: Mike manages the financial and administrative functions of the Innovation Pillar.  

Background: After five years with Jefferson Treasury Shared Services, Mike joined the Innovation Pillar in May 2017.  Mike earned his MBA from Temple University. 
---
Amy Sarola, JD, MBE
Senior Contract Specialist
Background: Amy joined the Innovation Pillar in April 2018.  She previously spent nearly eight years as a Senior Research Analyst for the health and life science practice of Oliver Wyman, a management consulting firm.  Prior to that Amy practiced intellectual property law at Dorsey & Whitney LLP and Kenyon & Kenyon LLP with a focus on trademark, brand management, and advertising and promotions law. Amy holds a JD from the University of Pennsylvania Law School and Master of Bioethics from the University of Pennsylvania School of Medicine as well as a Master of Library Science from St. John's University and a BS in Biology from St. Joseph's University. She is a member of the NY and United States Patent Bars.
---
Jianbo Hu , PhD
Associate Director of Technology Licensing
Background: Jianbo Hu, Ph.D. joined the Innovation Pillar as the Associate Director of Technology Licensing in September 2019 with over ten years' experience in technology development, translation, and commercialization. He was previously a senior technology licensing officer at Penn State University where he independently managed all aspects of the College of Medicine's technology transfer needs. Prior to his Penn State position, Dr. Hu was an IP and commercialization specialist and a co-manager for Oregon State University's university venture development fund. Jianbo has significant experience in handling technologies in the areas of biomedical and life sciences, chemistry, chemical engineering and microfluidics. He obtained his BS in Food Science and Nutrition and MS in Physiology from China, and his PhD in Physiology from Washington State University. Jianbo enjoy hiking outdoors in his spare time.
 
---
Cathy Bedenbaugh, MBA Strategic Design
Program and Project Manager
Creative Brief: Catherine works with the Innovation Pillar staff, as well as the university and health campuses, managing engagement projects relevant to innovation and entrepreneurship at Jefferson. Her specific responsibilities include identifying grant prospects in the public and private sectors as well as planning innovative programs such as the Innovation Engagement Speaker Series, JAZ Tank, and serving as logistics director for the Jefferson Health Hack.

Background: Catherine has experience working with national retailers such as QVC, Macy's and Destination Maternity in product development management roles. She provided project coordination support to the launch team for the Jefferson Institute for Bioprocessing while pursuing her MBA at Jefferson University.  Catherine originally hales from Texas, where she received her BFA from the University of North Texas.
---
Robert Arcadipane
IP & Licensing Specialist

Creative Brief: Mr. Arcadipane maintains Jefferson's database of invention disclosures and patents, and establishes internal operating and communication procedures. He manages the process of intellectual property disclosure intake, working with inventors to gather the information and signatures needed for patent prosecution. Mr. Arcadipane coordinates correspondence with external patent firms and attorneys engaged by Jefferson in the IP protection process.
Background: Robert joined TJU in October of 2016 after moving to Philadelphia from New York, where he provided support to C-level Executives for 6 years in the publishing and advertising industries. Rob spent 3 years as executive assistant to Dr. Rose Ritts, Jefferson EVP & Chief Innovation Officer, before transitioning into his current role as IP & Licensing Specialist.

---
Nicola Elliott
Executive Administrative Assistant to Stephen K. Klasko, MD, MB;
Innovation Technical Specialist
Creative Brief: In her role as an Executive Administrative Assistant, Nicola develops, in consultation with the President's Office leadership team,  the calendar, schedule, logistics, agendas and supporting information for the President on the status of current issues and projects on the Jefferson East Falls Campus. In her role as an Innovation Technical Specialist, Nicola coordinates cross-campus Innovation events; supports presidential initiatives and Innovation initiatives across the enterprise; and manages Innovation projects as requested.
Background: Nicola has served as a professional Executive Assistant for multiple high level executives, serving as an essential partner to facilitate success in many critical projects.. She holds an undergraduate degree in Business Administration, and is a veteran of the United States Army.  And she has worked with many non-profit organizations, contributing  her professional experience to many charitable causes
Sharmenie Esin
Innovation Fellow
Background: Sharmenie joined the Innovation Pillar in June 2019 after completing her post-baccalaureate at Thomas Jefferson University's College of Biomedical Sciences (Spring 2019). She previously attended New York University where she earned her B.A. in Sociology and Public Health. She is currently in the process of applying to medical school where she hopes to earn a MD/MBA in an effort to coalesce her passion for medicine, technology, and health equity.